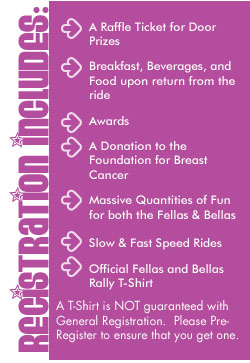 Location: Kendall-Whittier Park [map]
Pre-Registration (ends October 1st): $30.00 per person. Guaranteed a T-shirt with Pre-Registration
General Registration (Begins October 2nd): $35.00 per person

Remember, BOYS (aka Fellas) ARE ALLOWED to participate!

For more information call Lorinda at 918-812-4728 or [email].

INSTRUCTIONS FOR ONLINE PAYMENT: Go to the drop down window and pay with PayPal, we will match up your email address at registration. Please print your paid receipt for proof. Also, please click on Registration Form below, print it out, fill it out, and bring it with you to the rally. IF PAYPAL IS NOT WORKING, TRY PAYING WITH CREDIT CARD. That seems to work for everyone.

- Registration Form [pdf]
This form provides us important information regarding you and your scooter.

- Sponsorship Form [pdf]
Please fill this form out if you desire to contibute funds or services to sponsor our rally

***All participants will be required to fill out a liability waiver the day of the event

Registration and Breakfast from 9:00am to 9:30am
- Ride begins 10:00am
- Return from Ride around 4:00ish (pm)
- Door Prizes, Snacks, and Live Music
- Kickin' you out at about 6ish

Motorcycles welcome and helmets are encouraged!